0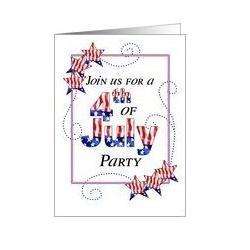 Fourth of July invitations are one of first things you need to get when planning a Fourth of July party, picnic or barbeque. Invite your friends and family for a festive summertime favorite event. Independence Day is a fun summer holiday and a great time to get together and have some fun. Enjoy some patriotic foods and decorations and of course fireworks.
Your party can be on July 4th or some other day that week or weekend. Be sure to let your guests know when and where the party will be and what time to show up. If it's a potluck or B.Y.O.B (bring your own beverage) let them know too. Send out your invitations early enough so that your guests have plenty of time to plan and R.S.V.P. (let you know whether they are attending or not).
Here are some ideas for Fourth of July invitations for your party. You can get premade invitations, make your own or order custom invitations to your Fourth of July celebration.
Fourth of July Party Invitations
Make your own Fourth of July Invitations
Custom Fourth of July Invitations
Want custom made Fourth of July Invitations? Get great looking custom invitations made for your Fourth of July celebration. If you are having a special event and want a unique design for your Fourth of July party or cookout you can get these custom invitations.
Custom Fourth of July Invitations
How to Make Fourth of July Invitations
Flag Invitations
If you are planning a patriotic party for Fourth of July then these Flag Invitations will set the tone for you party. They feature the stars and stripes of the flag and the red, white and blue colors are perfect for the holiday. On Fourth of July and other U.S. holidays like Memorial Day and Veterans Day it is customary to fly the flag. It is a sign of respect and honor for our country. Using flag invitations let's your guest know that it is a patriotic holidays and gives them all the information they need to when and where the event will take place.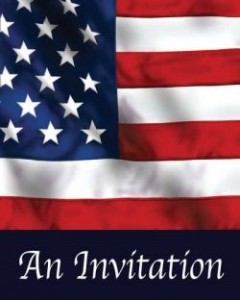 Creative Converting US Pride Party Invitations, 8 Count
Fourth of July Party Decorations
Fourth of July party decorations can be used to decorate for your party but you can also used some of the supplies when creating your invitation to make them look more festive. You can decorate for the party and use the leftovers to adorn you invites for next year too. These plastic streamers have the stars and stripes and a perfect for a patriotic party or affair. They are great for Fourth of July, Memorial Day or other United States holiday celebration.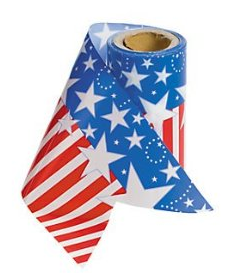 Patriotic Streamers
More great Fourth of July Ideas on Pinterest
Related posts: