0


Rasta Imposta Aunt Samantha Adult Costume
Fourth of July is a fun and patriotic holiday, a time for celebrating our nation's birth with fireworks, backyard barbecues and picnics. It's also fun to dress up in patriotic costumes like an Uncle Sam costume or a red white and blue outfit like this women's 4th of July dress.
You can get creative and be the Statue of Liberty or one of the founding fathers. What could be more patriotic than a colonial costume like a Betsy Ross costume or being one of the Presidents like George Washington or even George Bush. Halloween is also a great holiday to wear a President mask or costume. Patriotic costumes are also a unique idea for Halloween parties or trick or treating. They make great couples costumes too.
A Wonder Woman costume for her and a G.I. Joe costume for him makes a great couple look. An Army Nurse costume and Sailor costume look great together too. Whether it's Fourth of July, Halloween or the school play, patriotic costumes are fun to wear. Don't forget your pet in the celebrations get them a patriotic pet costume for the holiday.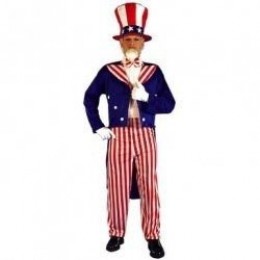 Uncle Sam has been a classic symbol of the United States since the 1800s. With his white beard and goatee and stars and stripes clothing and top hat, he represents the US government. Uncle Sam wants you and you can dress up like him for Fourth of July, Halloween or other national holidays.

The Statue of Liberty was a gift to the United State from France. She is a symbol of the United States and stands for liberty enlightening the world. She is a great idea for a patriotic costume for Fourth of July or Halloween or other patriotic holiday. Lady Liberty's greenish hue is due to her tarnished copper construction. She has a seven pointed crown and holds a torch and a tablet and
has sandaled feet.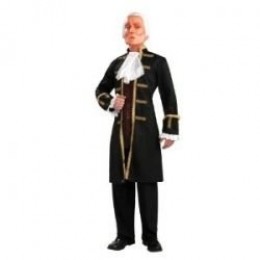 George Washington was our first president and the father of our nation. A George
Washington costume makes a wonderful patriotic costume for Fourth of July,
National Holiday or Halloween. This Deluxe George Washington costume comes with
a character mask, jacket and attached vest with jabot. All you need are pants
and shoes. A cherry tree, an axe and not being able to tell a lie help too.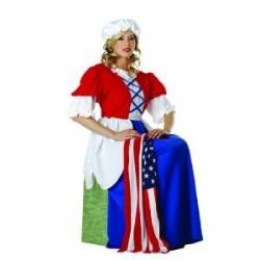 Betsy Ross is credited with creating the first American flag. She is a patriotic figure and a Betsy Ross costume makes a great colonial costume for Fourth of July or costume parties. She wears a mopcap and a lace up bodice and has an American flag prop.
Colonial Costume Patterns
President Costumes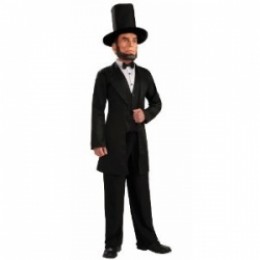 You could dress up in another President costume like Abraham Lincoln or go as Barrack Obama or other notable Presidents like Richard Nixon, John F. Kennedy, Ronald Reagan or George Bush. An Abraham Lincoln costume is a classic American President costume for celebrating National Holidays. This Honest Abe costume comes with a stove pipe top hat and character mask with beard.
Patriotic Costumes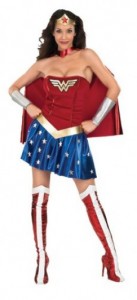 Wonder Woman is a feminine symbol of an American Super Hero. She helps out the US Army and protects freedom fighters and civilians alike.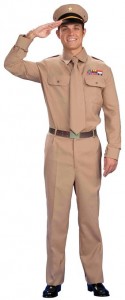 1940s WWII Military Officer Army General Costume Adult Standard Large 42
Go as a patriotic couple with these patriotic costumes.
Related posts: